Home / Gallery / Biography / Commissions

Albert Dreher
Master of the Oil Wash
Rest in Peace
1949-2020


In today's competitive art market, galleries and artists realize they must accommodate a more sophisticated art buyer. Buyers no longer accept what's available in galleries, e.g., something close to their required size, budget and colors. Buyers understand paintings can be ordered. The process of ordering a painting or a portrait or a sculpture has been a matter of business for hundreds of years. This process is commonly referred to as a "special commission." Albert Dreher has established himself as one of the most successful landscape artists painting special commission. He has painted literally hundreds of successful commissions. "I enjoy the process of creating a commission with a client, we not only create a work of art, but we establish a life long friendship."

All retail prices for a Special Commission paintings is the same price as a Gallery purchase!

Step 1
Design, Conception
Albert forwards a presentation of options for the clients review. The majority of Albert's clients ordering commission work are familiar with his style and subject matter and usually have a predetermined idea of what they want. Via the telephone, Albert determines the pertinent customer specifications of the painting, Size, subject matter, colors and price.

Step 2
Drawing Presentation, Color Tests
Albert forwards a full size line drawing of the painting including framing details for the client's review and approval.

Frequently, the client will require specific colors to be incorporated in the painting. Upon request, Albert will forward color tests that match the samples supplied by the client.

Step 3
Washes and Painting
Once the approved drawing and color test is returned to Albert he requires 1/3 of the fee as deposit and begins the painting. During the painting process Albert forwards daily progress photos to his customers via email.
After the painting is finished Albert requires another 1/3 of the fee.

Step 4
Trimming and Framing
The painting and framing process takes approximately 3 weeks. When finished Dreher personally wraps the painting. He then takes it to professional shippers where it is packed, insured and shipped to the customer. Upon acceptance of the commission, Albert requires the final 1/3 of the fee plus the packing, shipping and insurance costs.
There are no additional charges for a "special commission." The price of the commission is based upon the size of the painting, the same price found the same prices found in all the galleries representing Albert Dreher.

All retail prices for a Special Commissions are the same as retail purchase from Dreher Gallerys.



A Special Commission for Ginny and Larry Steele

Aurora, Colorado

"From the moment we saw one of his southwestern paintings we admired them and waited for an opportunity to place one in our home. This summer the opportunity came, and we jumped at the chance to commission a work."

"The process could not have been easier or more enjoyable. We selected a size, then reviewed Al's preliminary sketch of the piece. We suggested the addition of several elements to the painting and Al immediately agreed with our ideas. We received several "in progress" photos to heighten our anticipation – but seeing the final, framed piece in our family room was just unbelievable! It will certainly be the focal point of the room and subject of many conversations for years to come."

Wyatt Lamborn
Williston, North Dakota
"I am pleased beyond measure with the commissioned Rainbow Bridge Memory. I saw Albert Dreher's work on the internet several years ago and regretted not purchasing one of his pieces at that time. Recently, I decided to acquire a piece of his work and found out that doing a commission was easy. If I was commissioning the piece I wanted to make the piece more personal to myself and family. Lake Powell has a special please in our hearts we have visited the Rainbow Bridge National Monument many times while on vacation at Lake Powell. I asked Albert if he could incorporate this natural wonder into the commission as well as a few other suggestions and let him create from there. "

"Albert then sent a sketch to hang on the wall to get the look and feel of the creation. I really enjoyed this because I was able to make some suggestions on what I like and some things I would like to see a little different. Albert Dreher then edited the drawing and showed me the updates for approval. Working together in this way, we were able to develop the painting and create a piece we all enjoyed more."

"I now have a very special piece to hang in our home that not only captures the beauty Albert Dreher's puts into every one of his masterpieces, but also has signification sentimental meaning to me personally. I am so happy with the decision to have a Commissioned Albert Dreher hanging on my walls."

Special Commission for Rodney Johnson
Hickory Creek, Texas
"Simply . . . very happy!"


Special Commission for Dan and Cheri Conkling
Sparks, Nevada
"So very happy to finally have an Albert Dreher original painting!"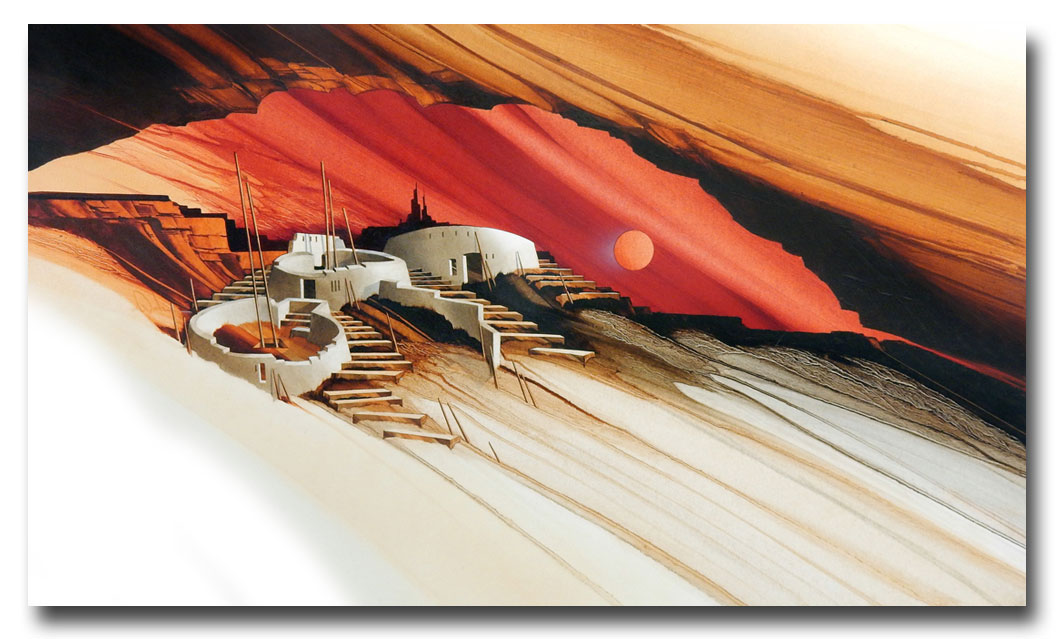 Special Commission for Jackie and Paul Kleinstub
Tucson, Arizona
"After admiring your paintings for four years on our frequent trips to Tubac, a remodel of our living room in Portland finally made it possible to logically act on the desire to have a Dreher original hanging in our home. The personal touch The personal touch of having met and conversed with you always makes ownership additionally special. To learn that your studio was about a half mile from our second home in Tucson made this purchase seem destined to be."

"The best part, aside from the three fun visits to your studio, was your process of developing art that was meant for our vision and our personal space. We wanted a piece to be the centerpiece and yet be a part of the whole feeling of the space. I cannot adequately relate to you now harmoniously everything fits together."

"By first getting a full size draft sketch of the artwork at home, we were able to review size and composition as it related to our expectations. You were right on with the subject and simplicity we envisioned and so no alternations were necessary before turning to colors.

By using photos of our room, color samples of wall, color and fabric samples, you made it all come together. Since we selected the frame color at your studio earlier, it was just a matter of choosing a couple of colors from a palette you sent us, and we were ready for the final piece. It was all so simple and so right in the end.
Thank you. Forever your admirers."

Special Commission for Carol and Jeff Pisanos
Colorado Springs, Colorado




"Thanks again for allowing your art in our home. I hope you like it. I think it worked out perfect."

Special Commission for Jerry Stipp
Tubac, Arizona




"Just a note to let you know that your painting is wonderful and highly appreciated by everyone that has viewed it.
Took awhile to settle on a place to hang it as it looks good everywhere - but, we did it and it can be seen most everywhere."



Special Commission for Cherine Hathaway
Tucson, Arizona
"I commissioned Albert to do a painting for me. He was very easy to work with and listened to what I wanted. When he was done and I viewed the finished product, the "remark" was on the wrong side. When I commented on this he reviewed his notes and realized his error. Although I loved the painting, he insisted he start over. I am very happy with the finished product. It is beautiful! I would not think twice about having Albert do another painting for me."

Special Commission for Ellen & Bill Davis
Tucson, Arizona
"The work is so versitile as your painting works well on several other walsl in our home. It also gives us a special meaning to our new home.
Looking forward to finding another space in our house for another Dreher work."

Special Commission for

Thom Thomas
Dallas, Texas
"We truly love our wonderful painting, and the opportunity to work with you."

Special Commission for Felicia & Robert Bloom
Saddle Brook, Arizona
"Sincerely, a perfect finish to our new living room. Thank you!"

Special Commission for Aston & Diana Parker
Devon, England
"This is our second commission from Albert. Once again he has created a stunning evocation of the past in a modern way. We ask for an echo of a pueblo in the distance and a particular color base. Albert delivered this perfectly and is and immediate conversation piece when people visit.
Thanks once again Albert for a "beauty."

Special Commission for Jane & Tony Vecchione
Saddle Brooke, Arizona
"It was a great experience working with you and planning exactly what would look just perfect in our living room. Upon entering our home one glances at our wall and sees your lovely piece of art. It fits just precisely in its environment. Working on the piece together also gives it a special meaning to our home. Looking forward to finding another space in our house for another Dreher work."





Special Commission for Durango Symphony Orchestra
Auction Winner/Symphony Patron, Debra Parmenter and Artist Dreher with original
Music in the Mountains painting. Sponsored by Toh-Atin Gallery.

"I'm so proud I won the silent auction. I simply love this painting. Thank you Albert for the beautiful painting and you contributions to the "Music in the Mountains" celebration."
| | |
| --- | --- |
| | |

Special Commission for Dave Plank
Tucson, Arizona
"I couldn't be more please with the experience of working with you, from our first discussion to the finished painting.
The whole process was fascinating as well as most enjoyable. I marvel at how you can take a few ideals and suggestions from me and create a work of art which is far beyond what had visualized. The painting is breathtaking to say the least I love it!
"Thank you so much, Albert."

Special Commission for Dr. Cindy McKinney
State College, Pennsylvania
"I am very supportive of the commission process and encourage anyone with an idea to try it---- it allowed me take an idea I had a vision of but could not execute and communicating with Albert and using his skill and vision produced a painting that met and exceeded my expectations. The time frame is short (a month in this case). Using email and FedEx, I was able to see "real time" examples of frame and color and a "draft" of the commissioned piece so that I was not disappointed in the finished work. I highly recommend this process for anyone that wants a unique art work and has a desire to contribute, in a mall way, to the completed project."

Special Commission for Max & Linda Schneph
Pleasant Hill, Iowa




"Our painting is the perfect center piece of our living room."

Sharon Baker
Sun City West, Arizona




"When I first saw your paintings, I fell in love with it. I wasn't quick enough to buy it before someone else.

You were kind enough to commission a painting just for me." "You sent me drawings of how you perceived what I said I wanted. It was perfect!" "You kept me up-to-date with progress of the painting with pictures on my email. It was so thoughtful! When I picked up my painting I was thrilled! I gaze at it every day and love it more each time."
"Thank you so much!"



A Special Commission for T.K. & Cheryl McCutcheon
Boulder, Colorado


"This process has been fascinating, thank you for a wonderful experience, we love our painting."

Mike and Vicki Bray,
Overland Park, Kansas

"The perfect centerpiece for our new home." Your painting and the commission process has brought us together for a lifelong friendship." "Thank you so much!"


A Special Commission for Kelley Catton-Dwyer & Pat Dwyer
Burnsville, Minnesota




"Our painting is exquisite and hauntingly beautiful. We cannot thank you enough for all your efforts, your artistic expression and style. It was a pleasure to work with you and we feel a great sense of pride in our ability to input ideas and color schemes to really make the piece truly ours."

A Special Commission for Bob and Jean Wendlandt,
Muscatine, Iowa
"Awesome!"
"You have captured just what I envisioned. It looks wonderful above our fireplace. We appreciate how you kept us, up-to-date with your daily work as you painted."

A Special Commission for Denise and Philip Clough
Ontario, Canada
"We simply love our new painting and sincerely enjoyed the creative process."



A Special Commission for John & Hanna Watson
New York, New York
"We feel a special part of our commissioned paintings because you allowed us to be a partner of the creation. These are our of our prized painting."

A Special Commission for Mr. & Mrs. Ron Statt
Queen Creek, Arizona
"We enjoyed being part of the process and selecting the frame from Albert's new presentation options.
Our two commissions really add the finishing touch to our new formal dining room."


Albert Dreher Fine Art
Facebook: albert.dreher.1

Home / Gallery / Biography / Commissions